Truist Park Seating Chart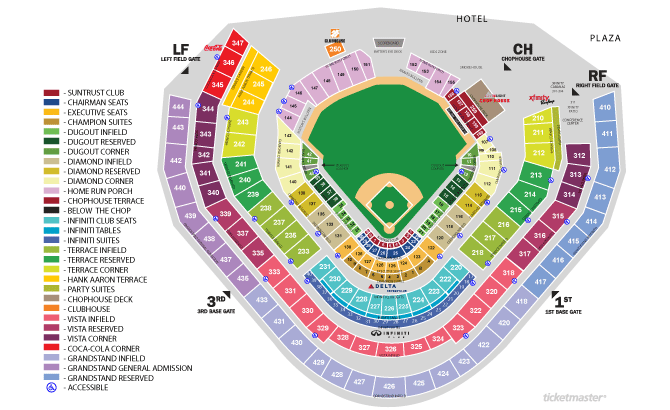 NOTE: Seating layouts can change depending on the type of event. The individual seating chart for the event can be seen when selecting your tickets.
Luxury Suites are located on the Lower Level and Terrace Level at the Ballpark and offer the perfect platform for both business and pleasure. Inside the Suites, guests are treated to state-of-the-art amenities including upscale catering, comfortable seating and furnishings that carry a distinct baseball flavor.
These suites are named:
Executive Club Seats
Infiniti Club Seats
Chairman Club Seats
SunTrust Club Seating
The Atlanta Braves dugout at SunTrust Park is located on the first base side in front of sections 17-21. The visitors' dugout is located on the third base side in front of sections 31-34. The Atlanta Braves bullpen is located in front sections 152-153 and visitors bullpen is located in front of sections 144-145.
The best seats in the stadium without paying a premium would be at Terrace Infield in sections 233 and 218. As long as you choose row 5 and above you should be having a great view. These seats are located right after the luxury suites. They have enough elevation to see what is actually going on in the field and still feel relatively close to the game.
Grab your tickets today and choose your desired seats. Visit the SunTrust Park schedule to select your event.
To view our ticket & refund policy please check the ticket information page.